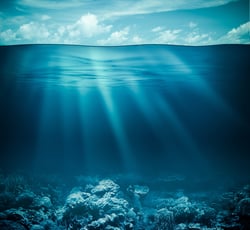 The future of allergy prevention might be in the sea. Ironically seaweed may be able to reduce allergy symptoms in allergens such as shellfish.
Not just any seaweed though.
A recent study found that a specific type of red algae could help in counteracting food allergies. The researchers from the study isolated polysaccharides from G.Lemaneiformis and gave them to a group of mice who were sensitive to tropomyosin (a major protein in the shellfish allergen). A separate group of mice did not receive the polysaccharides. Tropomyosin is an important protein in skeletal and cardiac muscle function.
Both groups were then given the allergen and the allergy symptoms in the treated mice were reduced compared to the mice who did not receive the treatment.
Although the best policy is to always stay away from the allergen, this could lead to new methods of allergy prevention and treatment.
If you have a diagnosed food or environmental allergen avoid them when possible. You can also micromanage your gut health to reduce their number of allergies. My top nutraceutical recommendations are Xymogen's GlutAloeMine, AllerDHQ, NAC, HistDao, Xcellent E-HG-400, Xcellent C, Omega 820 and ProbioMax DF. http://www.secondnaturecare.com/good-gut-probiotics

Fix the gut first and we also offer oral homeopathic immunotherapy which has been proven in immunological studies. Oral desensitization is great for children and avoids costly painful injections.
Ozone therapy can address acute conditions and chronic infections. It can alleviate persistent annoying symptoms and eliminate pain from infections. Patients in our Piermont office who receive ozone therapy exclaim that their allergens symptoms are gone or significantly reduced.

Email me your questions about food allergies. We offer state-of-the-art food allergy testing in CT.